Prepare to fight with NetEnt's latest releases Street Fighter 2: The World Warrior 2! Introduced in 1991, Street Fighter became massively popular with players nationwide. If you have no idea what I am talking about then Street Fighter was a competitive fighting game which was available to enjoy at the arcade.
Playable on a 5x5 grid, you can expect to find all the legendary fighters including E. Honda, Guile, Chun-Li, Blanka, Zangief, Ryu, Ken, Dhalsim and M. Bison.
Released on the 21.05.2020, Street Fighter 2 - The World Warrior is a highly volatile online slot game, which functions on a cluster pay mechanics and has an RTP of 96.06%. Please note that the RTP may vary slightly due to the features or depending on which casino you play at.
Playable on desktop and mobile you can place bets from a minimum of € / $0.20 per spin, up to the maximum stake allowed of € / $700 per spin. The online slot provides players with a chance to win up to 7,142x their stake placed.
Please note that the RTP and bet amount may vary slightly depending on the casino you play at, or whether you are playing a demo or real money.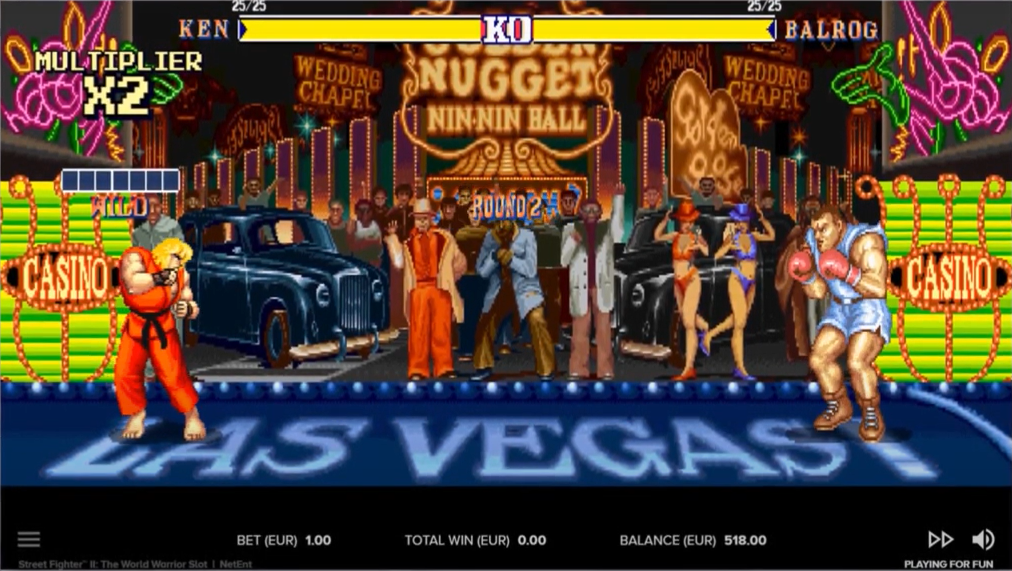 Bonuses and Features
In this section, we will take a look to see what features NetEnt incorporated into this legendary slot game.
Wild Combos
Car Smash - Bonus Game
Beat the Boss - Free Spins
Gamble Feature
Wilds
If you land 7+ high-value symbols in a cluster reaction, you will activate the Wild meter which will be located above your fighters head. When the spin comes to an end, the Wild meter will be triggered and your character will throw out Wild symbols onto the reels.
Each fighter comes with their own unique Wild feature.
E. Honda: Adds 3 wild symbols on one reel
Chun Li: Adds 2 to 7 wild symbols randomly to the reels.
Dhalsim: Adds 3 to 4 wilds randomly on the reels,
Zangief: Adds 2 stacks of 2 wild symbols horizontally
Ryu: Adds 3 wild symbols along one row
Guile: Adds 2 Wild symbol stacks to the reels,
Blanka: Adds 1 to 5 wild symbols on one reel and
Ken: Adds 1 to 5 wild symbols on the same row.
Car Smash Bonus Game
During the Car Smash Bonus Game, each fighter will start on 75 health points. Above the characters, you will find a health meter which will increase each time a cluster of 4+ high paying symbols land. Depending on the number of high paying symbols which made up the cluster, will determine how many health points your character will receive.
The battle comes to an end when either one of the fighters health points drops to zero or wins generated by avalanches stop.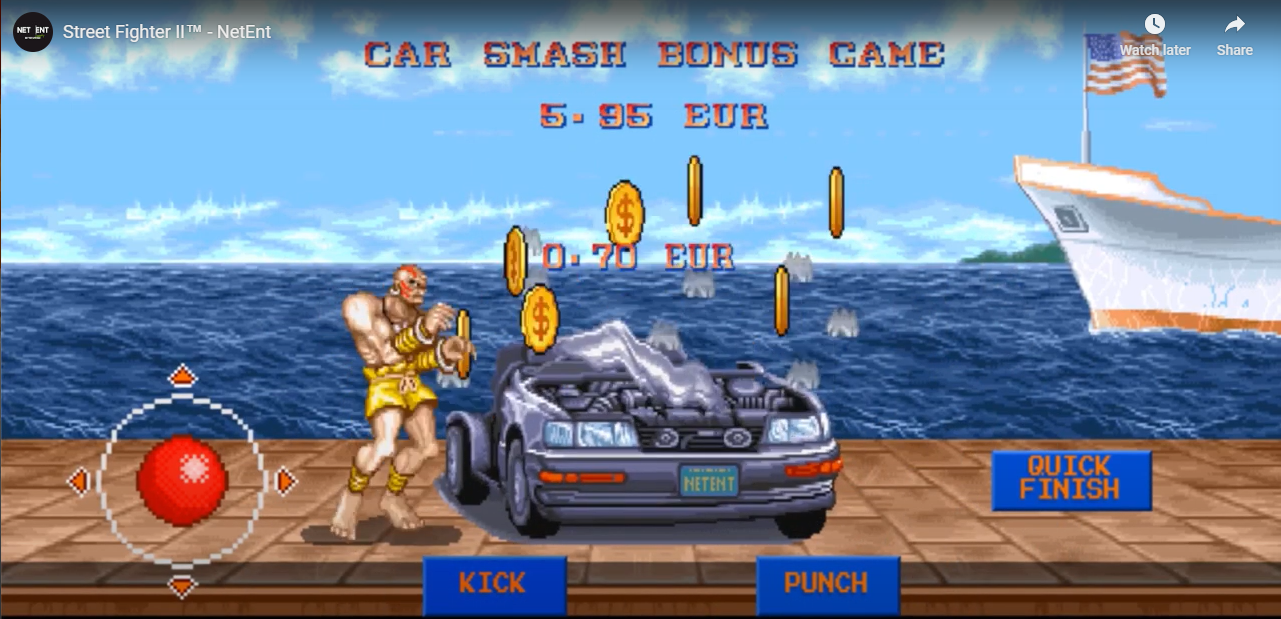 Beat the Boss
Go head to head in a battle against the 4 top bosses in the Beat the Boss free spins round. To begin the round you will start with 25 health points which will be topped up at the end of every spin. This means your fighter will always be fully loaded with their unique Wild power.
For every win you succeed, a win multiplier will be added and you will increase in levels.
Each Boss you go up against in a battle will come with their own multiplier as follows;
Balrog: 2x win multiplier
Vega: 3x win multiplier
Sagat: 5x multiplier
M. Bison: 10x multiplier
If you happen to land yourself a knockout and beat the fourth boss, M. Bison you will be awarded an additional x100 your stake placed.
If you happen to lose against one of the four bosses, you will be taken back to the opening round where you will also have the chance to decide if you want to continue with your fighter or exchange him for another.
Gamble Feature
During the free spins round, if you lose a fight against one of the top guys (bosses) you may be giving an extra life-line to participate in - Insert Coin Gamble feature. By participating in the Gamble you accept the chance of sacrificing a portion of your winnings generated to re-try the round.
To make the Insert Coin Gamble Feature more enticing, the RTP increases to 98.7% to 100%.
Over Verdict
As one history's most popular and renowned games, we were ecstatic to see almost three decades later the arcade game being brought back to life with this NetEnt slot creation.
The online slot was designed with care and innovative thought, which compliments the original game. Street Fighter 2 - The World Warrior is a reputable game, which NetEnt did a wonderful job of incorporating the main aspects to make special features out of them in this slot game.
With the RTP having the ability to adjust itself depending on the feature and a chance to win up to 7,142x your stake placed, this casino game provides players with plenty to get their blood rushing.
Whether you are a fan of the original arcade game, or this is the first you are hearing about it, Stree Fighter 2 is definitely a slot game which is worth checking out.
Destine to give this slot a try? WHy not head over to Casino Gods, Twin or Casino Planet?!