Net Entertainment is one of the biggest iGaming giants when it comes to Live casino.
Since 2013, NetEnt has become one of the most trusted and reliable Live Casino operators in the industry.
With an easy to use interface and seamless graphics, Netent is home to one of the most popular live casino studios in the industry.
Their live casino is one of the most professional places for players to get a land-based casino atmosphere from the comforts of their home, with friendly and welcoming real-life dealers.
You can enjoy playing Live Roulette by NetEnt anywhere you are from your pc, tablet or smartphone device. On your mobile device, you can decide whether you want to play using landscape or portrait mode.
You can also toggle between the video stream and the felt stream.
Roulette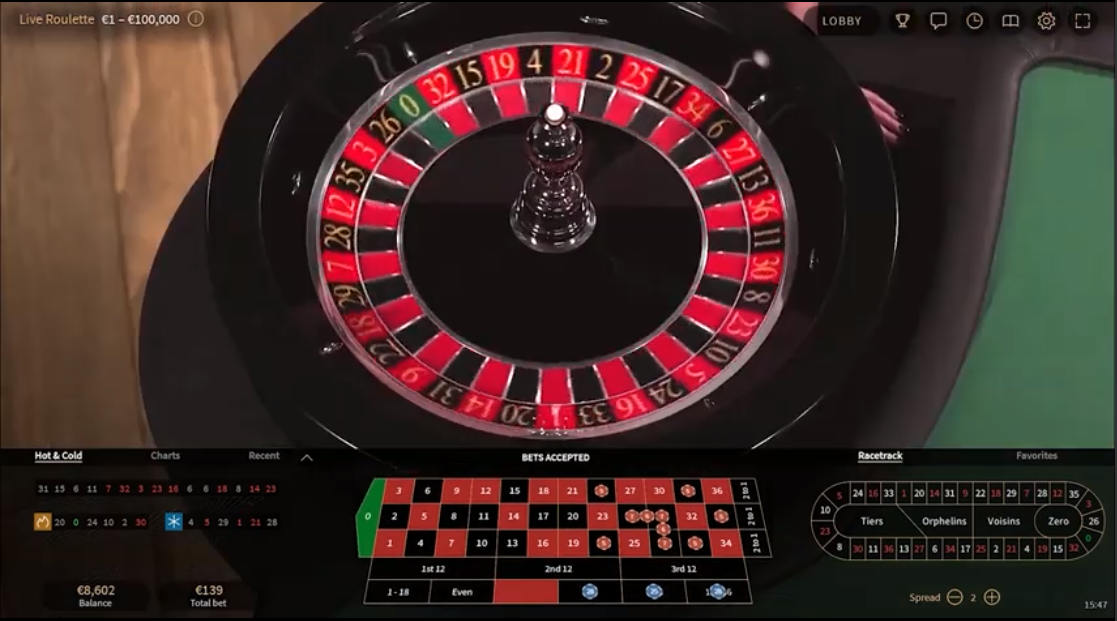 Roulette is a table game that is named after a french name meaning 'little wheel'.
A Roulette table is set out with a betting mat which replicates the numbers on the wheel and the Roulette wheel at the end of the table (where essentially the dealer will stand).
Bets are placed before the Roulette wheel is spun. To place a bet you are required to exchange cash money for casino chips.
If you are a new player to Roulette then placing an outside bet is a safer option due to the probability of winning being much higher than any other bet that can be placed.
Outside and Inside Bets
Outside bets cover large sections of the wheel and pay at lower odds, so it is a good way for new players to get a feel and experience Roulette.
Once you have gained some experience and knowledge of the table game you can then try and place inside bets. Inside bets are bets where you place your chips inside the different sections to cover the number/s displayed.
You can define the odds in two different ways. Firstly, they can be defined by the chance of each outcome occurring. Secondly, you can consider your odds by the amount paid back to you for a win.
Each bet you place in Roulette comes with its own unique odd, which subsequently pays out different volumes.
How to play Roulette
The idea of the game is that you place your bets on the mat by placing chips on different numbers or colors - red/black.
Low numbers consist of 1-18, whereas the higher numbers include 19-36.
Once your bets are placed, a croupier will spin the wheel, allowing the ball to spin in the opposite direction until the ball loses momentum.
Once the ball falls into place and rests in one of the numbered pockets.
If your bet was placed on the same number where the ball rests, you have won the round.
As there are so many different variations to Roulette, each type comes with its own set of rules, house edge and special bets.
The number of numbers displayed on the wheel can also vary from game to game, so it is always a good idea to check you fully understand the rules that apply before playing.
NetEnt Live Roulette Tables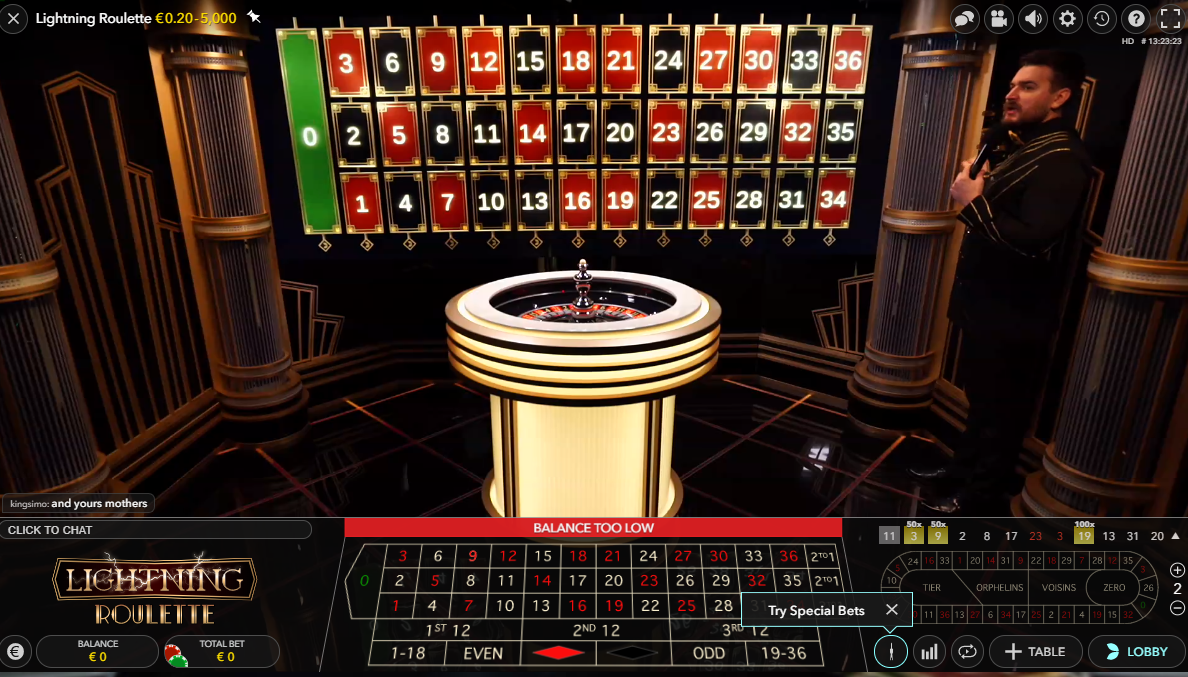 NetEnt is home to one of the largest varieties of Roulette tables.
Some of the Roulette games you can expect to find in their live casino include;
Classic Roulette
VIP Roulette
French Roulette
American Roulette
Lightning Roulette
European Roulette
And the list could go on forever. Again, depending on which casino you chose to play at the game options may vary.
Roulette Betting Strategies
Although part of playing Roulette is down to luck, there are 5 different strategies that have been proven to work.
These include;
Martingale
Reverse Martingale
D'Alembert
Fibonacci
Labouchere
Martingale
If you are a new player that has never played Roulette then the Martingale strategy is probably the easiest to follow. The strategy is based on the idea that each time you lose you, you increase your bet slightly on the same number.
The martingale strategy is based on the theory that if you lose enough times you will eventually win. If you are following this strategy it is advised that you start off with low bets!
Reverse Martingale
As you have probably sussed from the name of the strategy, Reverse Martingale is the opposite of Martingale.
Instead of increasing your bet each time you lose instead, you increase your bet each time you land a win.
This method allows you to win much higher amounts when you are on a winning streak, by placing higher bets using the casino's money (the winnings you have generated) rather than taking from your own.
D'Alembert
The D'Alembert strategy is a mix of Reverse Martingale and the Martingale strategy. Here you can decide whether you either increase or decrease your bet depending on the outcome of the last spin.
For example: for every loss, you occur you increase your bet slightly and for every win, you can slightly decrease your bet.
This strategy is best played using even-odd bets.
Fibonacci
The Fibonacci is a mathematical strategy is used to try and formulate a method that will make you win the bets.
The idea behind this strategy is that you calculate the two numbers together that you bet on before to determine which numbers to bet on next.
A Fibonacci sequence looks like similar to this: 1, 1, 2, ( 1+1 = 2 ) 3, 5, 8, ( 3+5=8) 13, 21, 34, ( 13+21 =34 ) …
With this theory, it is best to start off on low even bets and gradually work up after each loss.
Labouchere
Labouchere is a more complex strategy, so before giving it a try it is best to nail the other four strategies first.
Slightly similar to the other strategies, this time instead of adding the two numbers next to each other together, you take the first and the last number and add them together.
The point of this strategy is to keep adding the amount you bet to the end of the sequence every time you lose. If you win, you remove the first and last numbers instead.
After a long winning streak, the cycle will eventually come to an end due to all the numbers being removed.
Overall there are dozens of great NetEnt Live casino games. If you do not feel experienced and comfortable enough to play against one of NetEnts live dealers then you can enjoy a game of Roulette against yourself.
With so many different options available of Roulette it is always advised that you do some research before playing, or stick to one type of Roulette game until you can the swing of things.
As NetEnt continues to grow and expand its live studios, we are sure to see more exciting live casino games pop over.
NetEnt Live Roulette Languages
NetEnt offers players an immersive Roulette experience which can be played in up to 12 different languages.
Some of the languages that are supported include English, Swedish, Norwegian, German, Finnish and more.
Depending on the casino you play at, the languages available for the NetEnt Live Roulette tables may vary. This means if you are a new player looking to register an account at a casino to play Roulette, it is advised to check that they offer the table game in the language you feel most comfortable using.
The reason not all casinos support the languages NetEnt offers in their Live casino is due to the casino license.
Enjoy playing, and remember to never bet more than you can afford.