Gargantoon and his vibrant little alien friends are back with thanks to Play'n GO. Launched 01.10.2020, the sequel to Reactoonz was launched, bringing Reactoonz 2 to our online casinos. Following a similar appearance to the previous slot, you will notice some slight adjustments which have been made, such as Gargantoon's Wild friend that accompanies him and more!
The mechanics of the slot are also very similar to the original, played on a 7x7 reel set, Reactoonz 2 bet limit ranges from the minimum stake of € / $ 0.2 up to the maximum stake of € / $100 per spin.
Reactoonz 2 also makes use of the cluster pay mechanics, however, comes with a slightly lower Return to Player. The RTP is set at 96.20% and comes with a maximum exposure worth up to 3000x your bet placed.
Not only is slot a delight to look at, with high quality graphics and a fitting soundtrack, but Reactoonz 2 is also packed with out-of-this-world special features. The top symbols to look out for include Energoon Wild, Gargantoon, Electric Wild and Uncharged Wild as displayed in the image below.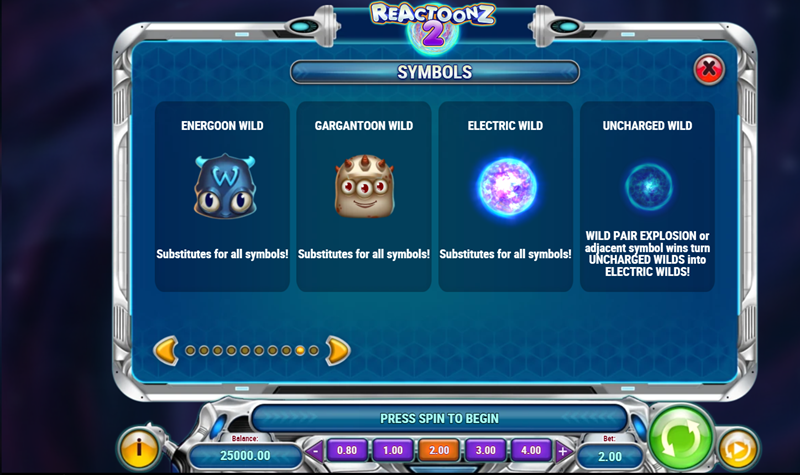 Considered to be a highly volatile slot, the Gargantoon is not easy to get a reaction from, however, once he is triggered be prepared!
Reactoonz 2 Bonuses and Features
If your looking for the big wins then you'll be happy to know that along with the Quantum Meter and Gargantoon, Reactoonz 2 has several other exciting features to offer as well. The features in this online slot include;
Fluctometer
Quantum Meter
Energoon Wilds
Gargantoon
Wild Pair explosion
Uncharged Wilds
Gargantoon
To trigger the Gargantoon you need to fill the Quantumeter, up to at least level 3.
If the feature is triggered when you reach level 4, an x2 multiplier will be added to all winds including any wins made up by the Gargantoon Wilds. However, winnings from the Gargantoon Wilds will only add a single x2 multiplier for each cluster win.
Reaching Level 3 will set free a 3x3 Gargantoon Wilds onto the reels. If the Gargantoon triggers a cascading win, the 3x3 gargantuan will be replaced by a 2x2 gargantuan wild and so on until no more wins are made.
The Gargantoon may look like a grumpy thing, however he knows how to pay out some terrific big wins!
Fluctometer
Beside the reels to the top right, you will notice a meter with one symbol displayed in the middle. This is the Fluctometer. At the beginning of every spin, a random one-eyed alien is chosen to fluctuate for the duration of the spin.
For every winning combination formed during a fluctuation will add one Electric Wild symbol will appear. The Fluctometer holds up to 11 charges and has the ability to create up to 3 Electric Wilds. The meter can be recharged at any point during the gameplay unless the Gargantoon is activated.
Quantumeter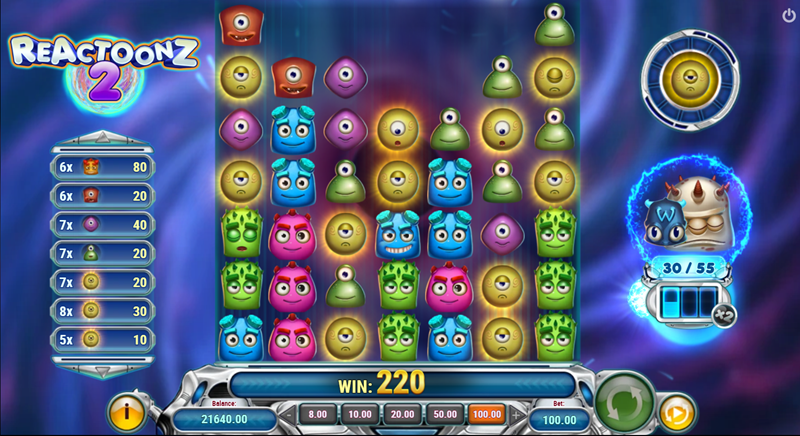 When the Quantumeter is full all non-wild symbols will be removed by an Electric Wild charge from the Quantumeter. Once an Energoon is released, the Quantumeter will continue to charge up to 135 charges unless the Gargantoon is released.
There are 4 levels to the Quantumeter charge, which are as follows;
Level 1: 55 charges
Level 2: 85 charges
Level 3: 110 charges
Level 4: 135 Charges (Fully Charged)
At the beginning of each new round, the Gargantoon will reset.
Energoon
The Energoon feature comes into play when the Quantumeter does not exceed level 3. If you make it to level 1, four 1x1 Energoon wilds will be released to the reels, deducting 55 charges from the meter.
Reaching level 2 will release a 2x2 Energoon Wild onto the reels at a cost of 30 charges.
Wild Pair Explosion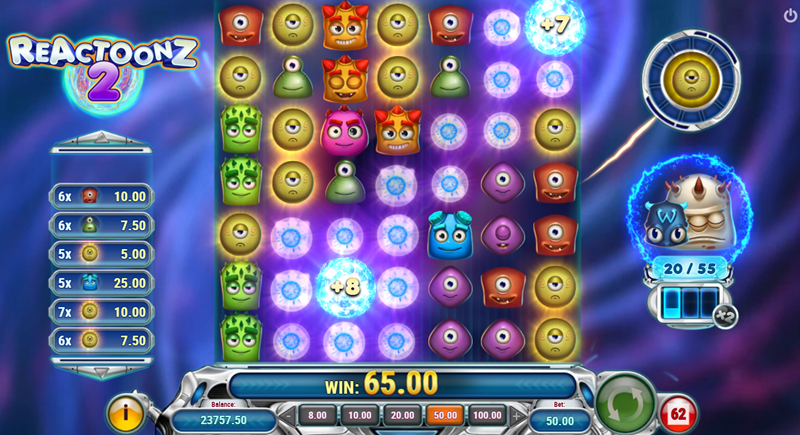 When all the features have been activated and 2 or more Electric Wilds are left, the Wild Pair explosion comes into play.
If there are 2 adjacent Electric Wilds, all other symbols are removed excluding Wilds. In the case where there are no adjacent Electric Wilds, any symbols which sit between the two will be destroyed including any Wild symbols present on the reels. This does not have any effect on the Quantumeter Charge.
Uncharged Wilds
If an Uncharged Wild is present on the reels and sits horizontally or vertically adjacent to winning symbols, the feature has the ability to transform into a Wild Pair Explosion.
An Uncharged Wild can not form a winning combination.
Our Thoughts on Reactoonz 2
Play'n GO very rarely disappoint us, and with the original being such a success there was no doubt Reactoonz 2 was going to be a blast also!
Reactoonz is one of the most played slots in our brick and mortar and online casinos, providing players with endless hours of fun, excitement and juicy big wins. This meant that Play'n GO had some big expectations to live up to.. And did they succeed? I think we can agree, yes they did!
Reactoonz 2 is great fun, vibrant and a pleasure to play, enhancing the user experience. The slot game offers great graphics, features and wins.
Looking for a thrill kicker? Then look no further! Reactoonz 2 is the online slot game for you! Why not check out one of the following trusted casinos to get started: Mr Green,