Playboy Gold Jackpot is a 5x6 reel slot game created by Triple Edge Studio and supported by Microgaming under an exclusive deal.
Hugh Heffner is a legendary idol for many people worldwide, who lived the life of luxury living in the Playboy Mansion with his seductive playboy bunnies. Which brings us no surprise what the theme of this slot is with the title 'Playboy Gold'.
Many gaming providers have attempted to recreate the prestigious Playboy fantasy into an online slot, so we were interested to take a look at what Triple Edge studio had put there blood and sweat into.
Released on the 26th November 2019, this Jackpot slot comes with an RTP of 96.08%, has 30 paylines and is playable from € / $0.10 per bet up to the maximum bet allowed of € / $60. Playboy Gold Jackpot is a medium volatile slot game offering players a chance to win up to 2,500x their stake placed.
Please note that the RTP and bet amount may vary slightly depending on the casino you play at, or whether you are playing a demo or real money.
Playboy Gold Jackpot Features
With a slot title containing the words 'Playboy', 'Gold' and 'Jackpot' we can only imagine that this must mean the special in this slot are going to be extravagant, luxurious and enriching... Well wrong.
Unfortunately, even though the slot does offer several features, there seems to be one annoying catch to them. The Bonus Wheel is the big deal breaker in this slot and without the Bonus Wheel making an appearance you stand zero chance of seeing any other feature.
Wilds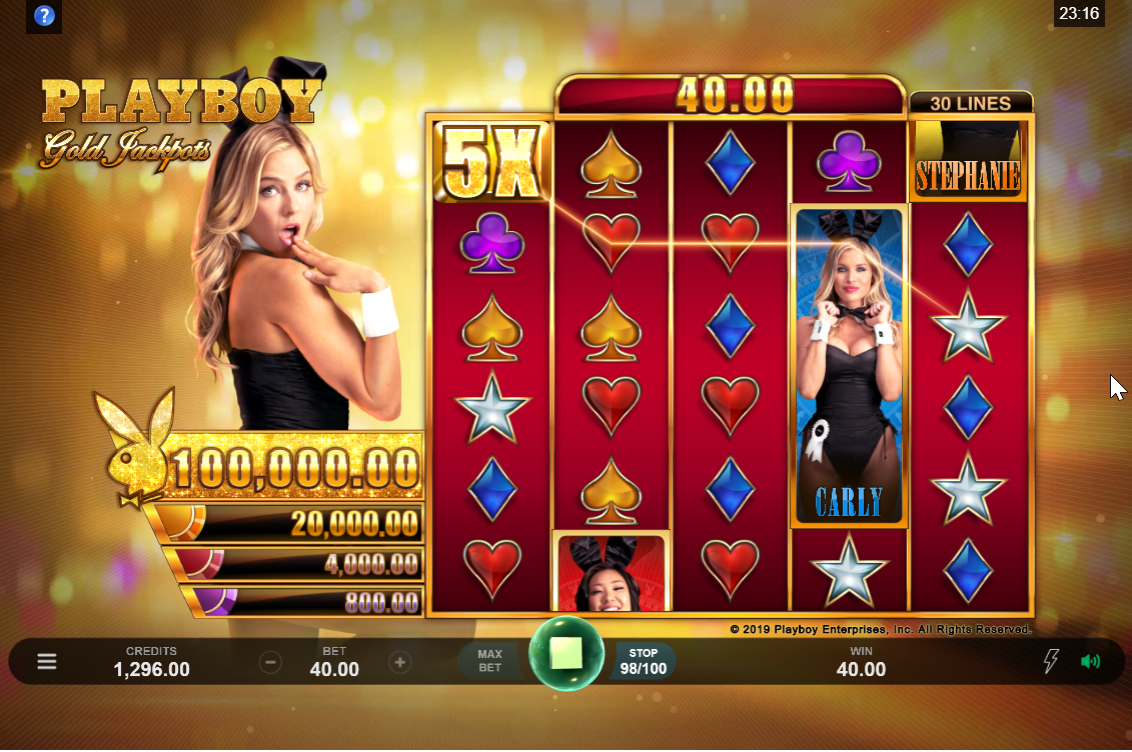 The Wild symbol can transform into a Wild multiplier when substituting for any other symbol.
Wilds can substitute for all other symbols except the Wheel.
The Multiplier Wilds consist of 5x line pay, 3x line pay, 2x line pay.
Bonus Wheel
To trigger the Wheel Bonus you need to land a full wheel jumbo block feature. If you happen to land part of a wheel, it has the ability to nudge itself into full view.
Landing the bonus wheel is where you want to get to. This is the main feature in the slot which has potential and can payout up to 2,500x your stake placed.
The bonus wheel is split into several different coloured segments. Depending on which segment the dial lands on you can be awarded either free spins or a jackpot.
Jackpots
To trigger a jackpot you need to activate the bonus wheel.
The bonus wheel is split into different coloured segments. Each segment is worth a different amount x your bet.
Purple: 20x bet
Red: 100x your bet
Orange: 500x your bet
Gold Playboy bunny: 2500x your bet.
Free spins
To activate the free spins round you, of course, need to trigger the Wheel Bonus. On the wheel, there will be several segments which are numbered.
When you trigger the free spins round you will be awarded '10' free spins.
During the free spins feature a whole jumbo block will appear on every spin.
At any point during the free spins, you can re-trigger more. To re-trigger the feature you need to land a bonus wheel. The bonus wheel again will be split into segments which display different amounts.
Landing on 15, 20 or 25 will determine how many additional free spins you will receive.
Jumbo Block
The Jumbo Block feature are symbols illustrated by different girls from the Playboy mansion.
The symbols can become stacked on the reels and combine together on the three centre reels to make up one Jumbo Block.
The Jumbo Block combined together will sit across 3 reels by 4 rows.
Playboy Gold Design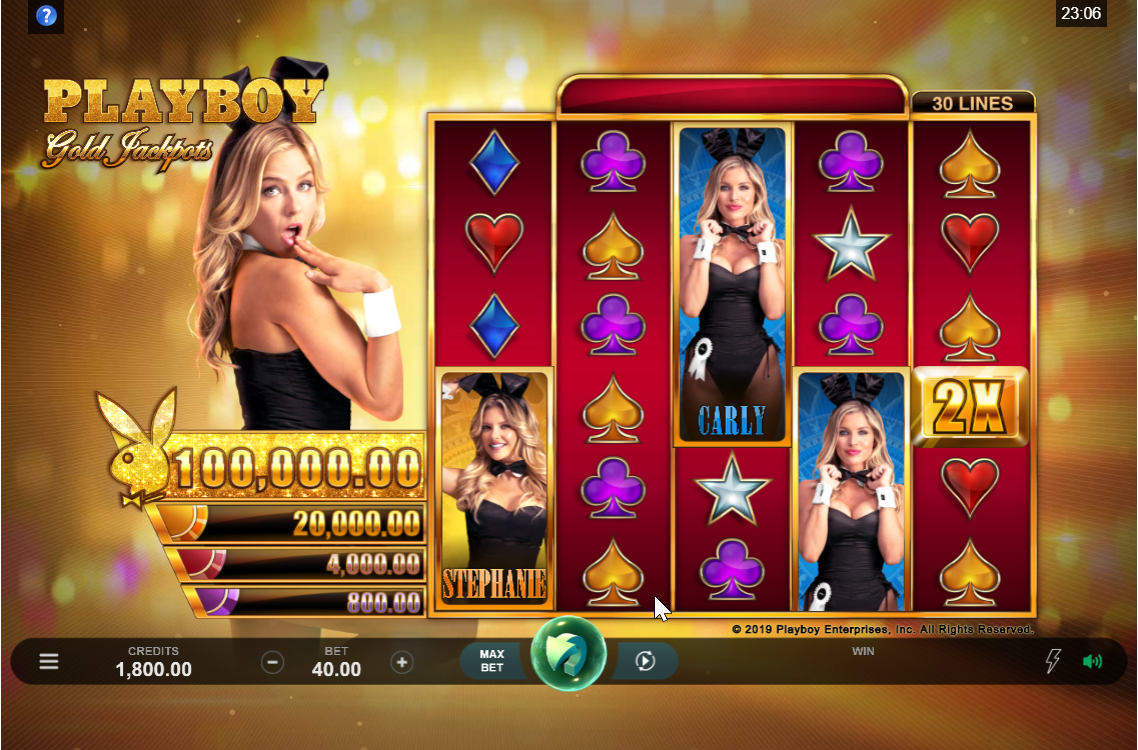 Following the prestigious Playboy theme, this online slot game is full of seductive playboy bunnies, gold and glitz.
The reels are set in front of a gold glittery background with ones of Huge's playboy girls posing cheekily beside the jackpot chart. The reels themselves are set on a velvet red background which enhances the symbols themselves.
As you would only expect, the four saucy bunny symbols are the highest paying on the reels. Stephanie is the highest paying of them all and poses in front of a gold background, while Hiromi has a red background, Gia a purple and Carly a blue. Following the higher paying symbols is the lower paying symbols which are by far the snazzy club, spade, star, heart and diamond I have seen in a slot game.
Our Conclusion
When you think of Playboy you think, Wealth, Mansions, Classy, Attractive girls and so on which I feel is one aspect of this slot Triple Edge Studios slacked on.
The design of the slot, of course, represents the Playboy standard stereotypes, using different Playboy Girls to represent the highest paying symbols and the playboy bunny. However, there was no WOW factor in the design of this slot.
Honestly, I thought the lack of quality and innovative thought that went into the design of this slot was poor on behalf of the creators. Although if you are a Playboy aficionado, you will most likely love this slot.
When it comes to the features, I was also not that overjoyed. I found it incredibly boring and frustrating that you have to rely on landing one main feature to activate the free spins or win any jackpot amounts. However, if Playboy Gold sounds like a slot you would enjoy a spin on, why not give it a spin at Genesis casino?