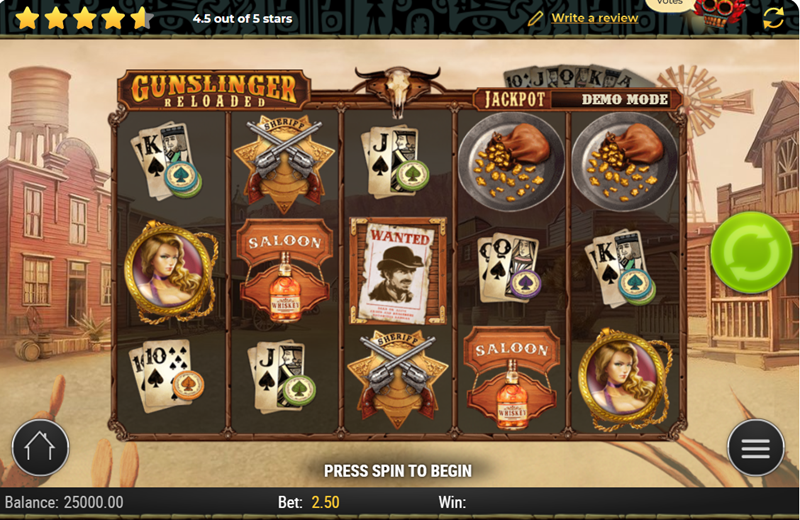 Gunslinger Reloaded is one of the newest online slot games released this year and my god is it making some tongues wagging. This new progressive video slot by Play'n Go has been designed perfectly, with fantastic graphics and images, as well as sound effects. Gunslinger Reloaded follows a country-western theme, where three rebellious bandits on the run are causing mayhem in an outback town. Can you hunt them down?
The new online slot is by far one of the best to fulfill your time playing, cramped with extravagant bonus and feature rounds. The most exciting part is the exceptionally large amounts waiting to be won and players just can not stop Spinning. Accessible to access on mobile, tablet, or PC, you can take on the bandits wherever you may be. The slot comes with a 96% RTP and is considered to be medium volatility.
Gunslinger Reloaded is a 5 reel, 25 pay line slot game. The minimum stake you can play is € / $ 0.10 pence, up to the maximum stake of € / $ 10 per spin. Play'n Go created a simple and user-friendly slot, although if you do require a little guidance, keep reading below.
Bonuses and features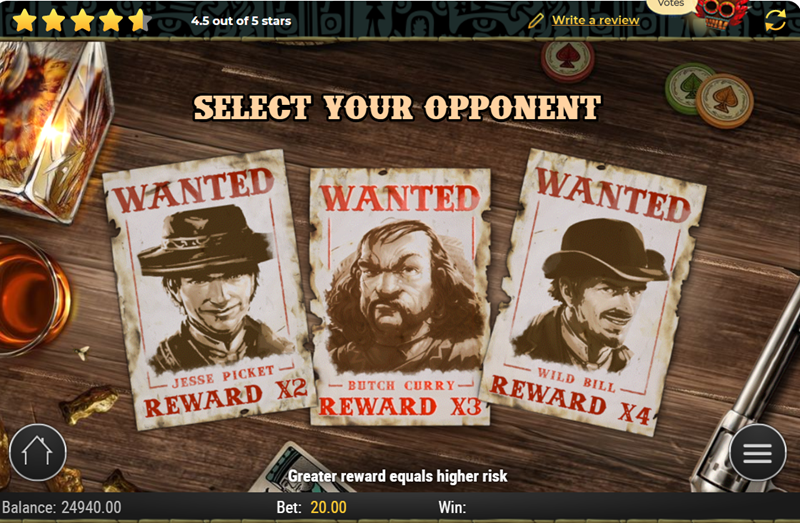 Bounty Hunter:
When you land 3 wanted Bounty Hunter posters anywhere on the reels, the Bounty Hunter feature will activate. You will then get one choice from the three bandits - Wild Bill, Jesse Picket, or Butch Curry to chase down. The Bounty Hunter is set over four rounds, each once earning you different points which will be totaled up at the end of the feature.
The first shots will be fired in a bar, where 3 bottles of whisky will be flipped from a table, You have to pick one bottle to shoot. The battle will then lead outside where you will then have to pick one of three knives being thrown. As the battle gets fierce and you draw in on the bandit, you then have the choice to select one of the dynamite explosives. The chase draws to an end and it's all down to the last final move. Which move do you think they will take?
Bottle Spins: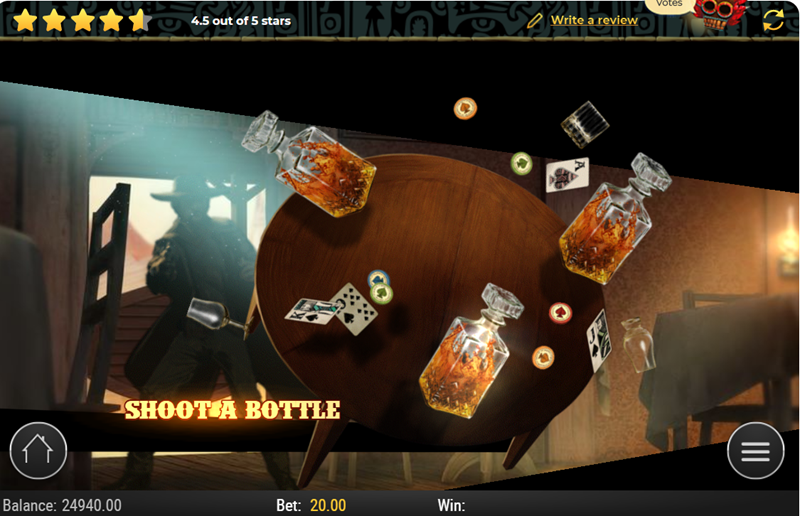 The Bottle Spins symbol is represented by a wooden Saloon sign and a bottle of Whiskey. You need to land 3 Saloon symbols on the reels to activate the feature. Once the feature is activated you will have the option to select one of the Saloon symbols to use as a target to take one shot at. After you have taken your shot, your amount of free spins awarded will be revealed and the feature will begin.
Wild symbol:
The Wild symbol can land anywhere on the reels and will substitute for any symbol except a Bonus, Scatter or Free Spin symbol.
Scatter symbol: The Scatter symbol is represented by a tempered white horse. Landing the Scatter symbol means that the total bet stake is multiplied by the wins and is added to winning paylines.
Collect and Jackpot: This feature is represented by two Ace of spades and what looks like a poker chip. In order to activate the feature, you need to collect a win on each of the cards.
Our Thoughts on Gunslinger Reloaded
Gunslinger Reloaded is an action-packed slot, which takes you to the heart of the action. The design and graphics set the scene perfectly as the gameplay unravels the different scenarios you may find yourself in.
Play'n GO very rarely disappoints when it comes to creating a new slot game, and Gunslinger is one of those that you will find yourself returning to, at one point or another. Although it can tease a lot it is exciting and fun to play.
If you have not yet had a chance to have a turn on this slot game then we recommend you give it a shot next time you play. A fiery slot game, full of thrill and excitement, Play'n Go really put 100% into creating one of the best slot games out there.
Why don't you head down to one of our top 10 casinos including Casino Gods and see if you have what it takes to take down one of the bandits?