Blackjack is a famous card game that has been around for centuries. Unlike most card games players do not play against each other, instead, they play against the dealer.
Played with one or more packs of cards (52 cards per deck) each player and the dealer begins with 2 cards. Blackjack is a card game where the strategy is based on mathematics. Blackjack is a fun game for all players to participate in as even though it requires skill, it is easy to get the hang of the basics.
Net Entertainment (NetEnt) is home to one of the most diverse and popular live casino studios. With all your favorite table games available to you in high definition video with a chroma-key background and friendly hosts, there is no surprise they were awarded for top Live Casino supplier in the Southern European Gaming (SEG) awards.
With a team of professional, friendly dealers, you can enjoy a slot at your favorite table game right from the comfort of your home (or where ever you chose to play from).
NetEnt offers a generous selection and variety of Blackjack in their Live Casino. Here you can find tables that are supported by welcoming dealers who can speak multiplier languages.
The Strategy behind Blackjack
To enjoy a game of Blackjack you need one dealer and a minimum of one player(s).
Each player will be dealt two cards, including the dealer.
The dealer will be dealt one card which is facing up and one which faces down. The idea of the game is to make '21 (Blackjack)' with the cards you are dealt with.
If you are dealt low numbers then do not panic you will have a chance to pick up more cards. 11 is considered a low number and means you can pick up an additional card without worrying about going bust (going over 21).
Once you are dealt your cards you then have several options. Stand, Hit, Split and double down are you four options once you have been dealt with your cards.
Hit: The term 'Hit' is used when you want to take an additional card from the dealer.
Stand: 'Stand' is used when you do not want to pick up any more cards.
Double Down: If a player 'Double Downs' this means they commit to standing after they have been dealt an additional card. They can also increase their initial bet by 100%.
Split: If you are dealt with two high cards ( Q / K / J / 10 / A ) you can choose to Split your cards. By splitting your cards you mean you are now playing with two hands which you can place bets on.
By splitting your hand when dealt two large numbers can help increase your chances of winning the round.
Busted: If a player or the dealers go Bust, this means they have exceeded 21.
Insurance: During a round of Blackjack, you can also play side bets and put down insurance. Side bets are made up of bets which players make to determine whether or not they think they can succeed in beating the dealer or not.
The insurance is played on a 2:1 ratio meaning you would receive €2 for every €1. IT is not recommended to play a side bet each round as it is not always guaranteed to payout.
All the cards in the deck are worth their card value, except J, Q, K which count as 10 each and Ace is worth 1 or 11.
NetEnt Live Blackjack Games
NetEnt offers a vast variety of Blackjack games that come with a high RTP for you to delve into. Some of the Blackjack games you can expect to find in their live casino include Blitz Blackjack, Perfect Blackjack, Blackjack Single Deck, Common Draw Blackjack and many more.
Below you will find a quick introduction to some of the most popular Blackjack games.
NetEnt Live Blitz Blackjack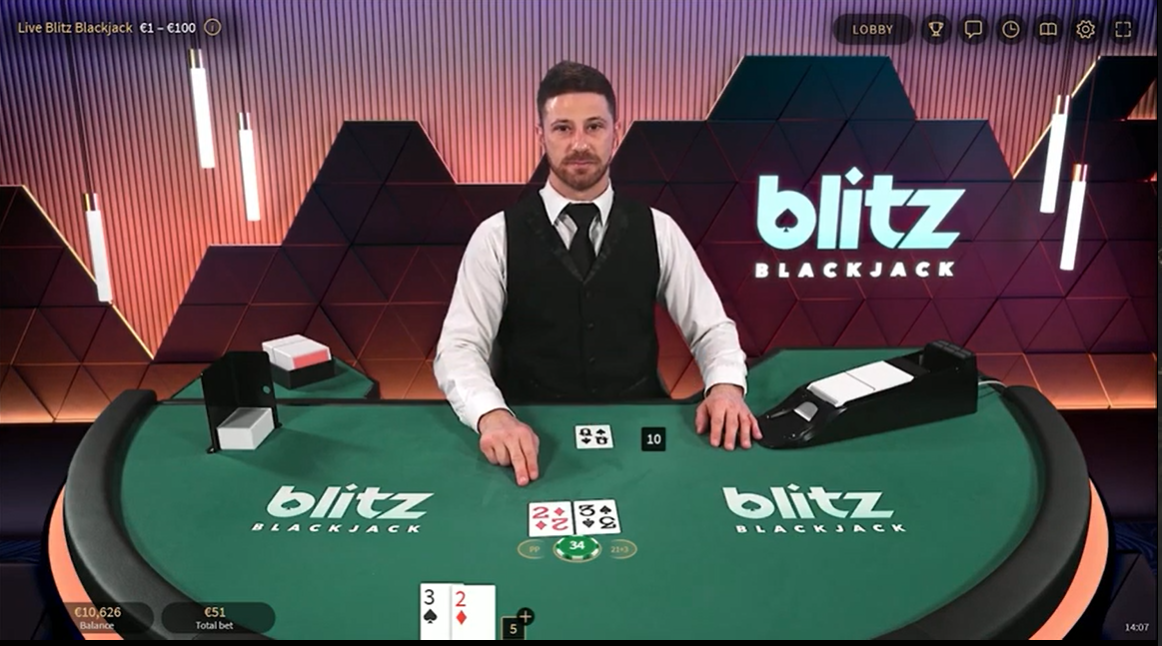 Blitz Blackjack is the new 2019 revamped version of NetEnt live Common Draw Blackjack.
The idea behind revamping the game and naming it Blitz is down to its lightning-fast play, with a modern edge.
Live Blitz Blackjack can be played with an unlimited amount of players and is offered in multiple currencies.
There are to different versions to the Live Blitz Blackjack. One for high rollers and one for low rollers. If you are someone who likes to play high bets at a fast paste then you are better off joining the high rollers table.
Single Deck Blackjack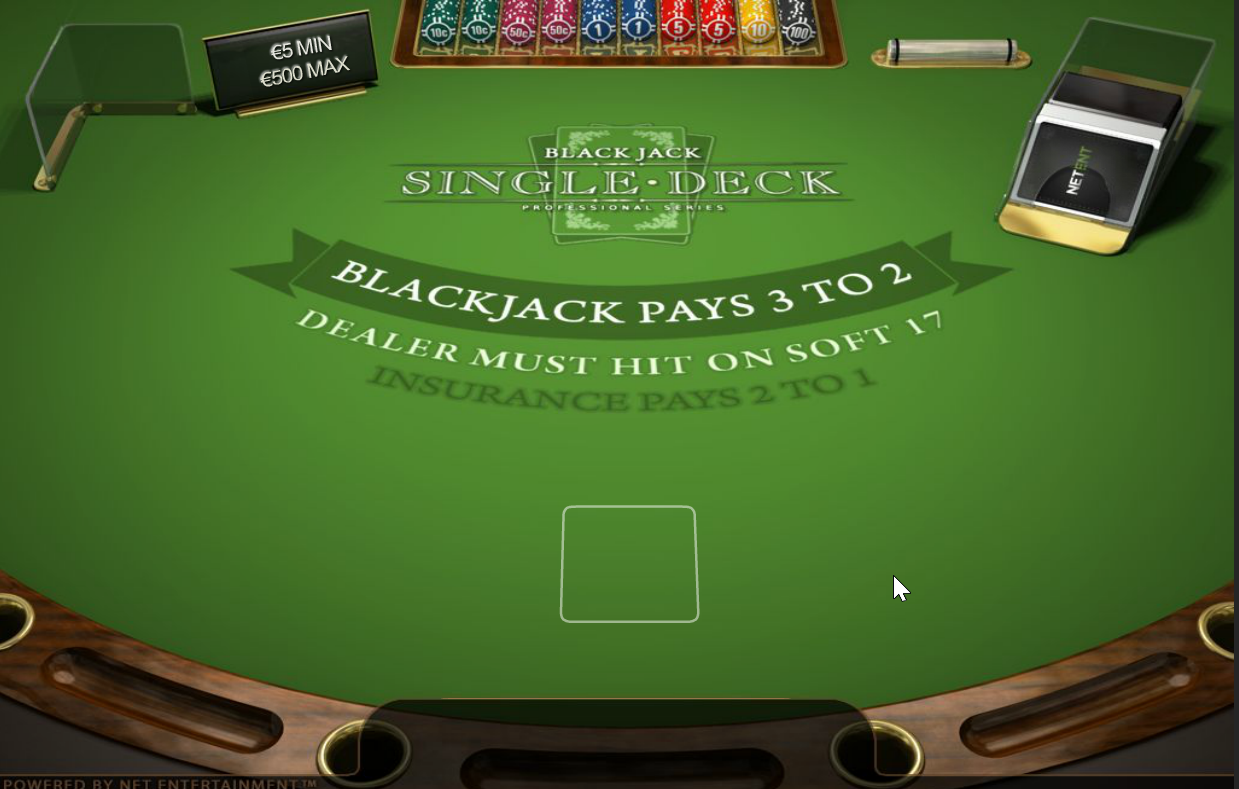 Single deck Blackjack is played with just one deck of cards.
For new players looking to experience a game of Blackjack, Single Deck is most likely the easiest place to start.
During Single Deck Blackjack if a player wants to split an Ace they can, however, they can only place one card on top of the hand. Hands excluding an Ace can be split up to three times.
Live Perfect Blackjack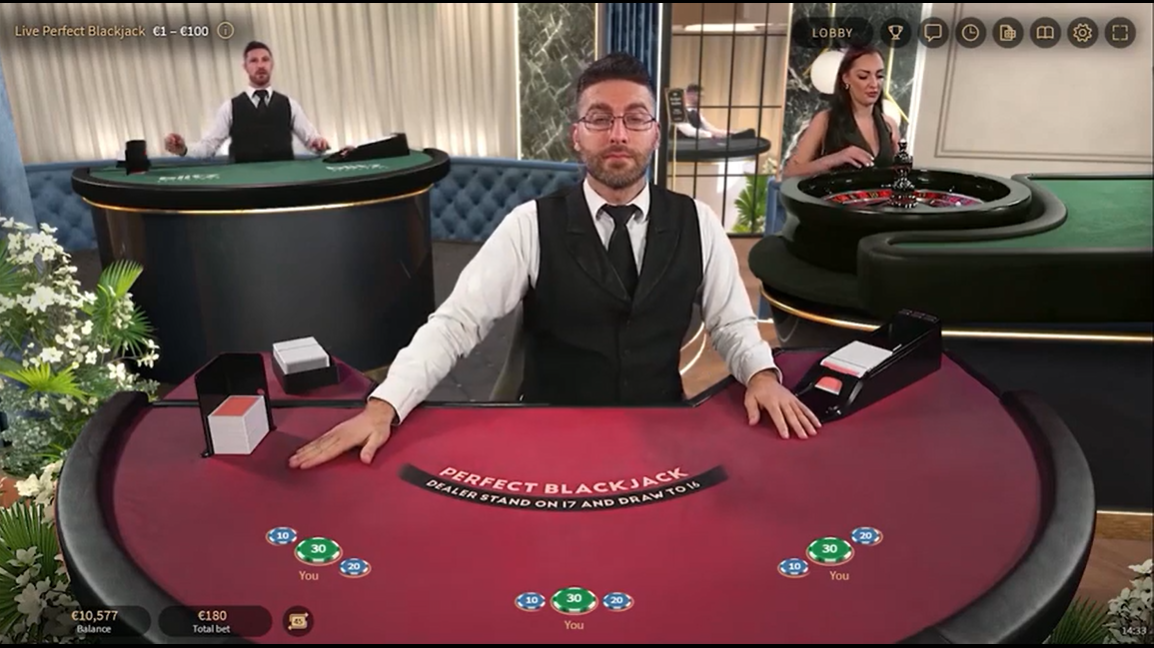 Perfect Blackjack allows you to enjoy a game of Blackjack with an appealing Return to Player (RTP) and enhanced functionalities.
Here you can pick whether you want to pick multi-seats worth up to 3 boxes as well as the option to split or double down.
A perfect Blackjack is a great place for new players to begin as it offers low stakes and an autoplay option which makes decision making much easier.
Fancy a change from slot games, roulette or poker? Why not try out NetEnt's very immersive Live Blackjack tables.